Marbella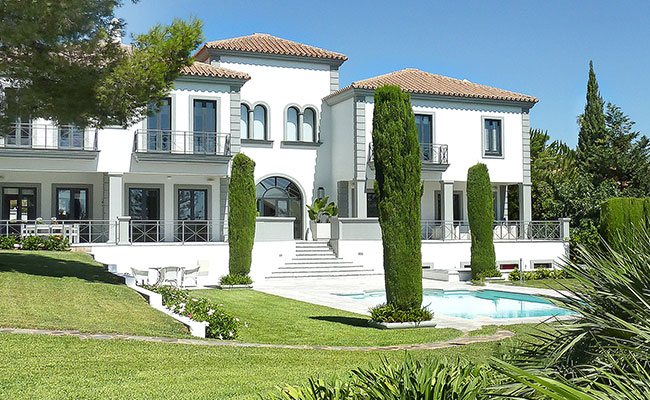 Marbella – The Chic Costa del Sol town! The southern Spain's answer to Saint Tropez, Marbella is on the Costa del Sol, part of Andalusia region, a glamorous resort town and one of the destinations where you'll find the famous foreign residents seduced by its lifestyle, tend to have homes there too.  Who wouldn't fall in love with the Mediterranean beaches, more than 3,000 hours of sunshine a year, golf courses, and the prestigious marina Puerto Banús!
Marbella 

Marbella: The centre of Marbella with "El Casco Antiguo" – the old part of Marbella with the famous Orange Square "Plaza de los Naranjos" is the most famous area where you find visitors all over the year to enjoy the special Spanish feeling with many little shops, restaurants and luxury boutiques. The area known as Marbella's Golden Mile begins on the western edge of Marbella and stretches to Puerto Banús. This area is exclusive and home to some of the area's most impressive estates, like the districts of Sierra Blanca, Marbella Hill Club and Camoján. The Golden Mile has plenty of business centres and restaurants, 5-star hotels and other services. The beachside is developed with luxury urbanizations and hotels, while the mountainside is still undergoing exclusive, carefully planned developments of luxury villas and gated communities.

Puerto Deportivo de Marbella (sport harbour) 
Paseo Marítimo. Puerto Deportivo de Marbella
29601Marbella Centro, Málaga, España
Tel:   +34 – 952 77 55 24 
puertodeportivo@marbella.es
www.marbella.es/puertodeportivo

Puerto Pesquero de Marbella
Oficinas del Puerto Pesquero
29601Marbella, Málaga, España
Tel:  +34 – 951 50 77 65
marbellad@eppa.es


Puerto Banús

Puerto Banús is located just west of Marbella, before you reach the small town of San Pedro de Alcántara. This is the internationally known marina attracting many visitors all year-round. The setting is close to ideal, with its impressive mountain backdrop and ocean views. Here you find luxury boutiques and high quality restaurants in same amount as nightclubs, bars and cafes. It has to be seen to get the feeling of this place!

Puerto José Banús (yacht harbour)
Torre de Control, Muelle Benabolá
29660 Puerto Banús – Marbella, Málaga, España
Tel:  +34 – 952 90 98 00 
clientes@puertojosebanus.es


Istán 

Istánis a small village a few kilometers from Marbella and Puerto Banús. During the entire coast is hardly any land free, Istán has been preserved the original Andalucian feel. Its proximity to the marina of Puerto Banus transforms the town and its surroundings into a popular residential area, even for the most luxurious villa owners!


Nueva Andalucía:

Just behind Puerto Banús is the residential area of Nueva Andalucía, home to the weekly market, shopping malls and various golf courses (like los Naranjos, Aloha Golf and Las Brisas Golf). The area is exclusive, lush and green, with stunning views to the sea and golf valley. Slightly further into the mountains you find the prestigious La Quinta Golf (27 holes), with spacious villas and apartments all built around the golf course and the famous 5-star hotel "Westin La Quinta 


Monda  

The village of Monda, with only aprox. 1750 inhabitants, is located 20 km north of Marbella. As one of the white villages of Andalusia, it is surrounded by attractive mountains and offers the proximity to the coast - the ideal place to feel the original Andalusian style.


"Best of Marbella" – Retro Movie: