Introducing Vitalux
Vitalux - Luxurious Residences
Luxury is there where you feel most comfortable! With a clear service strategy "VITALUX", Residencias Lujosas Vitalux, SL, presents itself as a modern company. True to our motto "We are at the right time at the right place for you" we focus on high quality properties in prime locations. We are a service orientated company and we consider each personal real estate situation. Vitalux stands for a "fine" selection!" 

"Owning properties gives a secure feeling! The most important thing in today's market situation is to present the properties in the right light and to convey the buyer again that security. "Luxury is there where you feel most comfortable. Vitalux shows you where!"

In our experience since 1999 in the real estate business at the Costa del Sol we have lived the immense rise of the Spanish economy, the extreme price increase of the properties within few years and then the consciousness of the exploded real estate bubble.

Property owners, investors of building projects, buyers with high property loans, which are not bearable any more, or even owners who miscalculated their financing as the monthly rates have risen to unexpectedly high rates, were surprised by difficult times… 

Many situations, which have become unbearable for one or another. The forced escape of the insolvency led some owners to sell their properties for prices far below their expectations and through that did not justify the expected lucrative investment, which in the end lead to the unfortunate situation. Additionally the market prices dropped strongly in some market segments.

The upturn in Marbella is obvious. There are premium estates as top investments, fantastic living staging and vacation properties where you feel like home!

Vitalux has specialized on the service a client needs in the actual situation and the constantly changing real estate market:


Market-driven property valuations under consideration of the personal situation
Preliminary advice on the payment terms as well as on further conditions (taking over existing loans, etc.)
Elaboration of the marketing concept adapted to the property and the personal situation (is a quick sale prioritized or is a defined period for the sale available, etc.)


Our service:

Property sales: Vitalux markets high-class properties to adapted prices in the area of Marbella/Málaga.

Property acquisition: Vitalux informs you about the actual property offers considering your search criteria.

Property rentals: Vitalux offers a wide range of high-class rental properties to tenants looking for short- and long-term rentals and respectively to market rental properties of owners mediating them to selected tenants.

Newsletter: Vitalux informs its clients on a regular basis about special offers of their owners through a newsletter system (messages by email). This information contains property offers for sale or rent, news of the real estate sector, etc. Every interested client with a valid e-mail address may sign up for this service, cancel it at any time or even help friends or relatives by recommending it through our web site.

Sign up for the newsletter on our home page!

We are looking forward to a good and successful collaboration.
Your Vitalux Team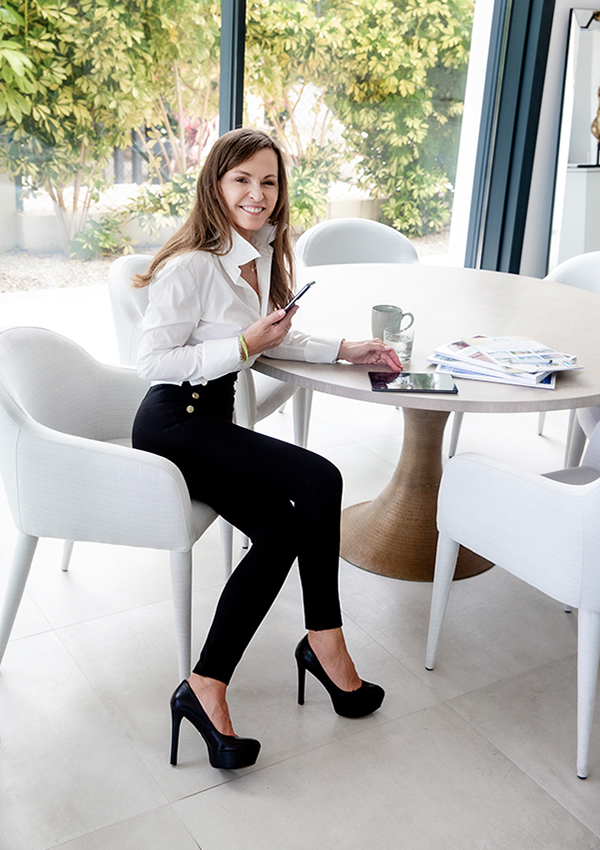 Your personal advice on Real Estate
DORIS KAVCIC
From the outset, Doris Kavcic offers you an efficient and personal advice on Real Estate, Investments, Figures & Facts. "Our properties aren't 'one size fits all', but tailored concepts for each individual buyer, including those with the courage to individuality"! She founded "Residencias Lujosas Vitalux, S.L." in 2009, "with a lot of passion and joy", and in all has over 25 years of sector affiliation and experience in the real estate business.

"We are an organization who use a "Hybrid Work model" to offer a better work-life -balance to our employees. This in turn drives productivity and engagement at work and helps businesses operate more efficiently as a result."

Psychology is, in fact, her second passion. She's also a qualified Mental Trainer.
Doris Kavcic
Tel: + 34 - 630 565 473
Email:info@vitalux.es